Note: Sarah is the author of this page for the sake of linguistic simplicity. Kevin and I created it together in terms of content and ideas, and it should be read with this in mind.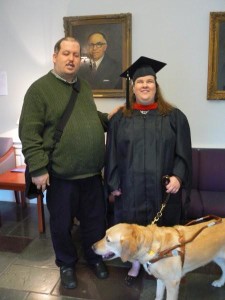 Kevin and I have shared a long relationship, first as friends and fellow advocates through the American Council of the Blind. We lived in different states; and we nurtured our relationship through occasional visits and shared participation in ACB conventions as well as email and Skype. We were married on June 9, 2012, in Anderson, and Kevin relocated to Anderson from Washington state. The task of combining households for two adults who have been living independently for several years hass been an interesting and sometimes challenging one. Additionally, Kevin and I have faced some unforeseen challenges since getting married.
The Wedding
We planned for a small but fairly traditional wedding at my church. One of the most important things for us was vows. We both wanted to write our vows; and we wanted them to be a reflection of our personal theology about marriage and our personal commitment to each other. Looking back, we would not change one thing about this process; and every day of our lives now is an affirmation of everything we wrote.

We prepared a budget with the help of the pastor which included his moving expenses and our preparations for setting up our new home. As we prepared our budget, we discovered that we would need to scale back our wedding plans a bit. So we moved the wedding from the large sanctuary to a reception area, which we set up as an informal wedding/reception event.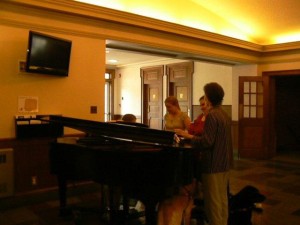 Changing this plan was painful for me. I had invited a friend to sing who was an accomplished vocalist. Kevin and I wanted our wedding to be a community act of worship; and Julie's music was part of setting that environment. It became necessary to inform her that the ceremony had become so informal that we would not be using special music. This felt like the ultimate bad etiquette, especially when I said that I hoped she would still come in from out of state. Julie was very gracious and not only came but provided some of our reception food–and some of my sustenance for the days ahead. One of the most treasured memories I have from that day is the impromptu time of worship that some of my guests shared with me at the piano before we went home that evening.
Little did we know what lay ahead.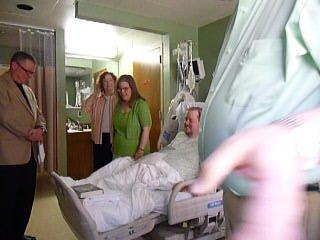 Five days before the wedding, Kevin was hospitalized with pneumonia. Both of his lungs were collapsed, and he was also diagnosed with diabetes, asthma, and chronic hypertension. We modified our wedding plans–again–so that we could get married while he was in the hospital.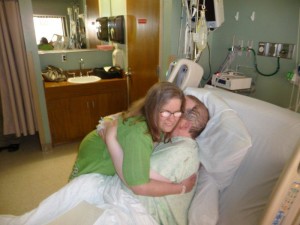 Our wedding was featured in The Herald Bulletin, the local newspaper here in Anderson. Read the article here. While Kevin was still in the hospital, I posted media from the wedding with some reflections. Watch, listen, and read.
Life with Chronic Illness
The concept of living with chronic illness was not new to us. I live with several medical conditions. Kevin and I discussed these things a lot before beginning to plan our marriage. It was important that he feel comfortable with the impact of these things on both of our lives.
What is new is the impact of his illness. We expected to start our lives together with him relatively healthy. Both of us are blind, but that was a known factor. The diagnoses in the hospital changed everything for us.
Kevin had pneumonia twice more and also had two surgeries during the next 18 months. I also had bronchitis and two surgeries within two years. Our identity as a married couple is far from what we expected.
For a long time, we continued to hope for one or both of us to get off the medical roller coaster. After all, we are both relatively young. If we went back to work at traditional jobs, we could work 20 years or more.
We celebrated our third anniversary in June, 2015. Kevin still uses a nebulizer four times a day. This means he spends three hours a day on the machine. I will have another surgery soon. Life will not likely change for us.
On the positive side, we enjoy life together. We enjoy our cats, and we have learned to nurture our relationship in special ways.
Our thoughts about our wedding have not changed over time. It was not what we would have planned, but it has helped us to begin to live into the vows we wrote and to focus completely on the things that matter. We would not change it. The headline from the Herald Bulletin article often beats through our lives like a drum. We have time in the day for "all that matters". And "all that matters" is what we run the race to do in life.
If you would like to contact us, please send email to Sarah.
---
Feed aggregation powered by
Syndicate Press
.
Processed request in 0.97955 seconds.